Our #NothingButGrapes process is the result of years of experience and innovation. A unique method with which we achieve excellent grape juice concentrate production, designed to achieve the highest quality standards and offer our client companies an authentic grape juice to make their products for the end customer.
At Julian Soler we work under this premise to obtain the grape juice concentrate only from grapes harvested at the optimum moment of ripening. Our commitment is not only with our customers but also with the farmers with whom we collaborate and with the environment.
We offer a 100% authentic product thanks to our commitment to our farmers, which allows us 100% traceability.
Learn first hand and phase by phase how our grape juice concentrates are produced.
The phases of the #NothingButGrapes process by Julian Soler
How do you grow the best grapes?
As with any self-respecting product, one of the most important aspects we take into account in Julian Soler is to be able to use high-quality raw material. Did you know that Castile-La Mancha is the largest wine-growing region in the world? Thanks to this privileged geographical location, we can start the whole process of grape juice concentrate production with the guarantee that the final result will be excellent. We start from a supply of raw material, both white and red grapes with optimum qualities for the production of grape juice.
What is the optimum time to harvest the grapes?
Grapes have a very specific ripening cycle, and depending on the location of the vineyards and the grape variety, it should be done earlier or later, normally at the end of summer or the beginning of autumn. Thanks to this ripening, the concentration of sugars and polyphenolic substances increases and the grapes take on color. It is then that the amount of acids decreases and the harvest begins. We pick them up at the exact moment so that they can maintain their properties throughout the process. During the harvest, we process between 20,000 and 30,000 tons of grapes in our facilities. Each harvest is for us and our growers a unique, authentic moment of respect for nature and our roots.
Direct unloading at our facilities
Without the need to go through intermediaries, the grapes from our farmers arrive at Julián Soler's facilities, which has a great advantage when it comes to obtaining complete traceability of the raw material. It is the moment to analyze the grapes and classify them, to get the best of each one of them.
How is the quality of the grapes controlled in the laboratory?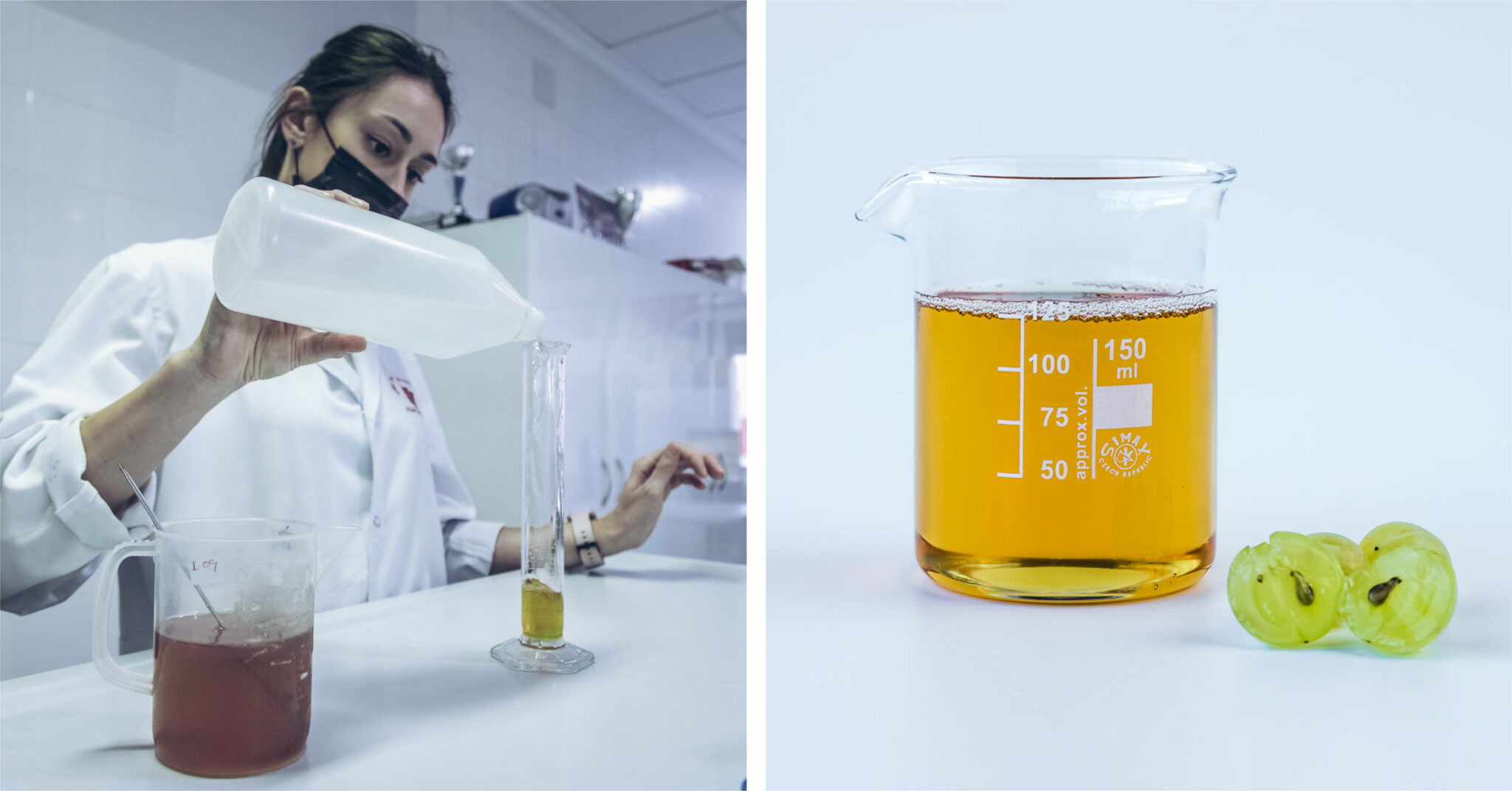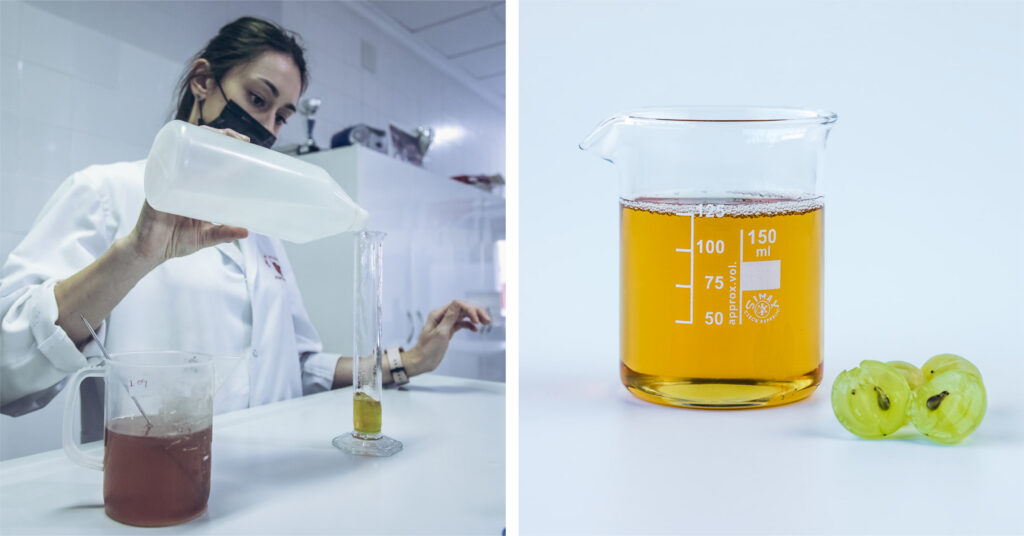 One of the most interesting points of our #NothingButGrapes process is the quality control in our own laboratories. Thanks to the technology we have, we can analyze the key parameters that guarantee that this is grapes and nothing else, trying to innovate and improve every day. We can also supply grape juice concentrate all year round thanks to this. Our microbiology laboratory has obtained the highest score in the inter-comparison organized by SGF International. Alicyclobacillus (ACB), molds, yeasts, and total aerobes are included in this exercise.
Check out Julian Soler's variety of grape juice concentrate and NFC.
What type of storage is grapes stored in?
The direct unloading of the grapes in our warehouse takes them to first processing, with a full physical system, which produces what is known as free-run concentrated grape juice. This is then transferred to AISI 316 stainless steel tanks, which can store up to 20 million liters for later use.
Grape concentrate from evaporation processes under vacuum
The moment of truth arrives. Now is when we start to prepare the grape juice concentrate, through a vacuum evaporation process to which the initial free-run concentrated grape juice is subjected. After this first process, we obtain a concentrate with 65/68º Brix.
Refrigerated storage
To preserve this concentrated grape juice, we use cold storage with a capacity of up to 60,000 tons. In this way, all the properties of the grape juice concentrate are maintained, preserving its qualities and conditions throughout the year, so that we can deliver it to our customers when they need it.
How is the grape juice filtered?
Although any of the phases of this unique #NothingButGrapes process is important, good filtration is fundamental. A good filtration process prevents settling in the grape juice concentrate. These particles, mainly composed of tartaric salts, appear naturally in the grape juice concentrate over time. In our process, we carry out an exhaustive filtration process before the dispatch of our grape juice concentrate, thus avoiding the appearance of foreign particles in the final product. To achieve this good filtration, polypropylene membranes specifically designed for this purpose are used.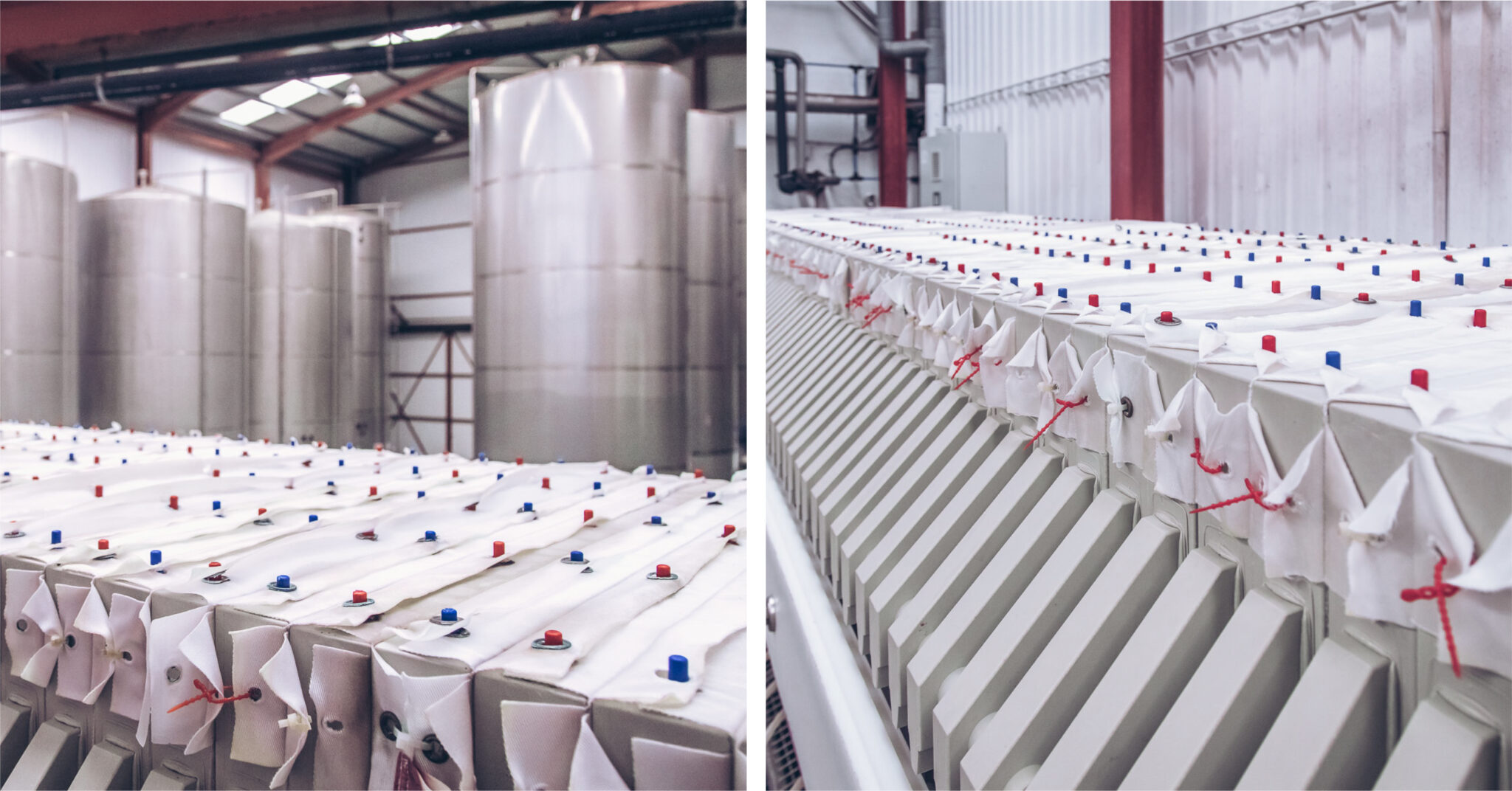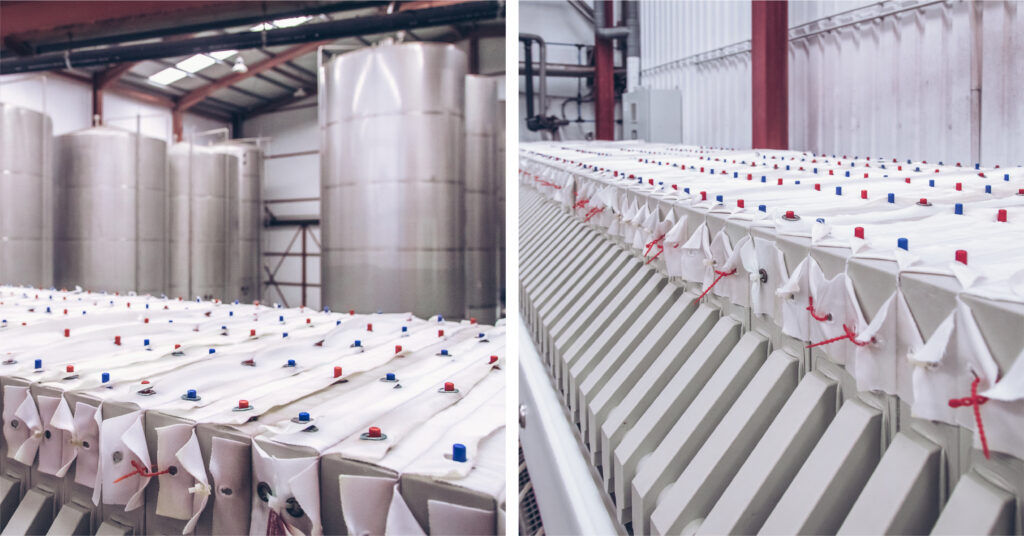 How is the grape juice concentrate packaged to meet the needs of international customers?
Our concentrated grape juice is exported to more than 48 countries on 5 continents, so it must be prepared to travel to the other side of the world. At Julian Soler we keep the grape juice concentrate in IBC containers, standard drums, or aseptic drums; we even offer the option to ship the grape juice concentrate in bulk according to our customer's needs.
Dispatch and transport to our customers
The previous point is essential to be able to deliver the grape juice concentrate to any customer around the world. Whether by air, land, or sea, we ensure that it arrives in the best conditions so that you can make use of our concentrated grape juice without any problem.
In addition, we can also offer frozen storage of the drums, waiting for the exact moment of delivery. This way, our customer will enjoy the best grape juice concentrate whenever he needs it as if it has just left our processing plant.
The #NothingButGrapes process, synonym of quality
Beyond exporting our concentrated grape juice to more than 48 countries in the 5 continents, Julián Soler offers a support service to our juice buyers with the necessary information on market trends to make the best decisions.
In this way, we become a reliable supplier, able to satisfy the demand of our customers at any time. As we have already mentioned, our commitment is maximum, we want the best for all those who choose us. It is an honor for us to bring a little piece of our vineyard to the final consumer. Because our process does not end with the shipment, it ends with the final quality product of our client companies, chosen and enjoyed by the final consumer.
In Julian Soler, we have several certifications that are a guarantee of quality. AENOR, FSSC 22000, IQNet, or FSA Sustainable are some of the most important seals in the industry, and we are proud to be up to any requirement.
Now you know about Julian Soler's #NothingButGrapes process, but you can only know how special this grape juice concentrate is if you try it and see for yourself.
Contact us and request a sample of our grape juices.