In Julián Soler we are producers of NFC, the juices that do not come from concentrates, but directly from the fruit. In our case, we obtain it through the processing of fresh grapes or, failing that, through the desulphitation of sulfur-containing grape juice concentrates. In this way, we obtain a product of the highest quality and with a whole range of uses ahead. We are going to analyze in detail what NFC grape juices are, what the process is, and how this juice is currently consumed. The demands of customers, who pay more and more attention to the origin and nature of what they drink, have led us to go the extra mile. We will also give some insight into what lies ahead in this industry.
What is NFC juice?
The first thing is to know what NFC stands for, which is just an abbreviation for Not From Concentrate. This means that the juice is produced directly from the extraction of the juice from the fruit and its sterilization, without reduction or concentration processes in the chain. In our case, NFC grape juice has a degree >= 16º Brix and preserves all the organoleptic properties of the grape.
As we can see, NFC juice is a perfect choice for many consumers in the industrial juice sector, as it is as close as possible to freshly squeezed juice. But, as we will see below, there are numerous industrial applications for NFC juices.
NFC juice production process for industry.
NFC juice usually takes fruit juices as raw material, in our case grapes and sulfur-containing grape juice concentrates from two different varieties: the red grape Bobal and the white grape Airén.
From here on, it is a matter of the desulphitation of this grape juice concentrate to obtain a grape juice completely free of sulfites, pesticides, and allergens. We will obtain NFC white grape juice (Airén variety) and NFC red grape juice (Bobal variety). This product is packaged in different ways, always according to the customer's needs, guaranteeing safety and the properties at the time of use. As a general rule, the shelf life of NFC juice tends to be around one month in cold conditions between 0 and 4º C, although it depends largely on the quality of the raw materials, processing technology, and packaging.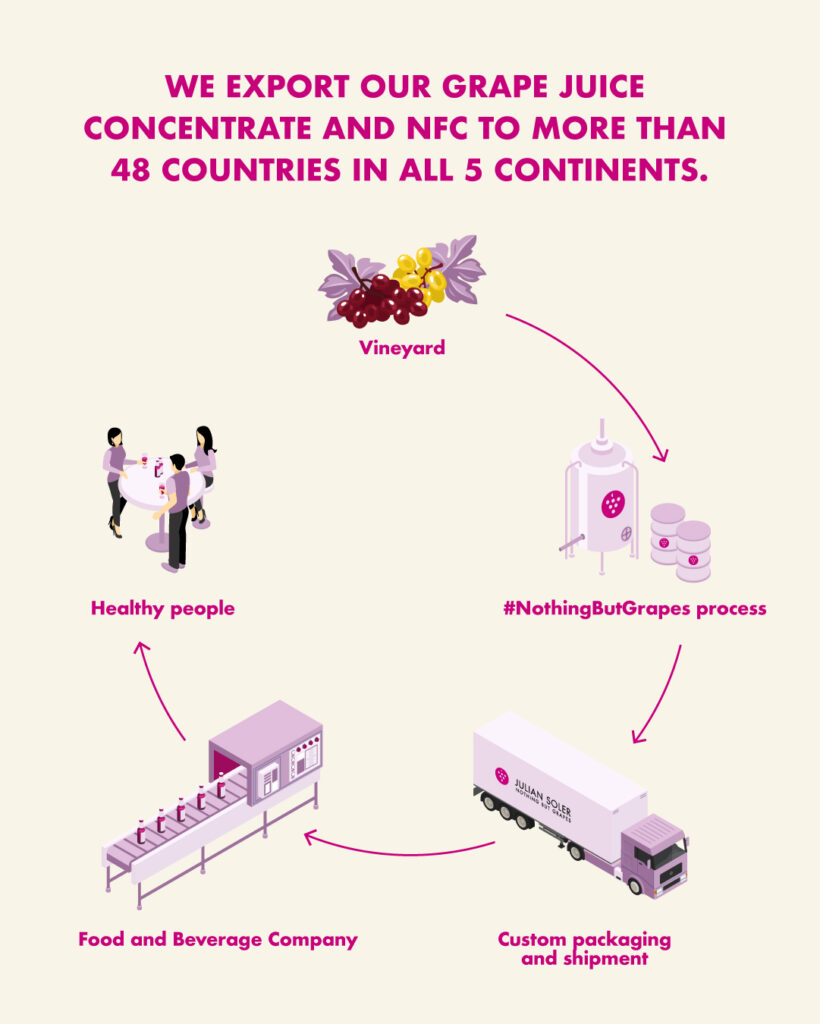 How to identify NFC juice?
To know if the juice is an NFC product, just read the labeling. NFC juices incorporate information on storage and shelf life, but you should also pay attention to the ingredients. The ingredient list of NFC juice should include only fresh juice or fresh juice and fruit pulp, and should not include juice concentrate, water, preservatives, pigments, or other additives.
Worldwide NFC juice consumption data
According to a research report by Market Research Future (MRFR), "NFC Juices Market Information by Type, Category, Application, and Region – Forecast till 2028", the market is expected to exceed USD 2 510.3 million by 2028, at a Compound Annual Growth Rate of 3.58%.
Europe has the largest market share in 2020, at 33.57%, and the market is expected to expand at a CAGR of 3.23%. The growth rate of the Asia-Pacific market is growing at 4.05%, much higher than any other region, and will soon become a very demanding consumer.
As for the volume of consumption, we look at the data provided worldwide by the Agricultural and Processed Food Products Export Development Authority (APEDA – an authority under the Ministry of Commerce and Industry of India). Below is a table with information from recent years, but it is worth noting the strong rebound in consumption after several years of stagnation and even decline, at the beginning of the 2010s.
Today, not only is an upward trend forecast but it is expected to surpass the 36 billion liters of NFC juice consumed throughout 2022.
Data table
| Year | Liters consumed (in millions) |
| --- | --- |
| 2011 | 32 842.7 |
| 2012 | 32 778.3 |
| 2013 | 32 795.1 |
| 2014 | 32 815.7 |
| 2015 | 32 966.5 |
| 2016 | 33 112.6 |
| 2017 | 33 601.5 |
| 2018 | 34 090.8 |
| 2019 | 34 620.9 |
| 2020 | 35 161.0 |
NFC juice consumption data and forecast expectation (APEDA, 2021)
NFC juice producing countries worldwide
There are several countries that have made good progress in the production of NFC juice, in addition to Spain. Some of the most advanced are the United States, Iran, the United Kingdom, and Vietnam. Different brands and factories are taking this product to more and more places.
Where is the NFC juice industry headed?
Improving technical production: When juices are made from concentrate, they are available in far-flung countries at very low prices. However, NFC juice production needs a stable supply of local fresh fruit, where quality is a priority. In addition, each fruit needs a different type of technology and processing, so industrialization of this sector is key to further progress.
Reduced transportation and storage costs: NFC juice needs to maintain the cold chain, as well as be stored at low temperatures. As we have said, it can be kept for about 1 month at the right temperature, so transport and storage conditions increase the cost and price of the final product.
Development of the market for high-quality fruit juices: Currently there is not a very high demand for this type of product, so distribution channels are smaller than those for juices from concentrate. It does not appear in the consumer's imagination as indispensable, and many do not consider spending a little more money for quality products. Being able to raise awareness of NFC juices with all their benefits is essential for the sector.
Industrial applications of NFC juices
NFC juices have many applications beyond consumption. The manufacture of nectars, ice creams, syrups or jams is a way to give them food use, as well as food for children:
Fruit and vegetable juices, nectars, and beverages
Natural colorants and other technical ingredients
Milkshakes, sorbets, and frozen fruit bars
Beers, ciders, and vinegars
Alcoholic beverages and spirits
Cocktail mixes
Kombucha tea
Dressings, marinades, and sauces
Cake fillings
Dairy products: fruit-flavored milk, ice cream, yogurt…
Candies and other snacks
Baby food, preserves, jams, spreads, and jellies
The future of NFC juices
Although the production of NFC juices is neither simple nor as cheap as other less healthy models, the current outlook is very positive. We currently have huge market potential, with great opportunities for both established and new brands. The end consumers of this product are young people, people who are looking for the highest quality and who have natural products in mind. But we must also focus on other companies, such as those that manufacture baby food, which uses these NFC juices as part of their production thanks to their numerous nutrients.
Request your offer without obligation. We export to more than 48 countries in the 5 continents.