At Julián Soler we produce grape juice concentrates for other companies to produce healthy juices and wines, but there are more applications of grape juice, both in the food production industry and in other sectors. One of the primary uses is the creation of natural colorants for food and beverages, which we achieve especially thanks to the Garnacha Tintorera grape variety.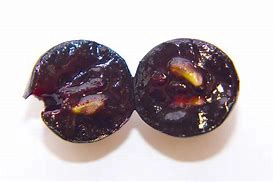 Table of contents, in today's article we will learn more about:
The example of grape juice concentrate as a natural food colorant
Like other foods such as red cabbage or purple carrots, grapes contain elements known as anthocyanins, which we will talk more about later. These are responsible for the red and purple colors of some of these varieties, which allow their use as a natural colorant. In the case of grapes, the set of pigments extracted from the pulp and skin of red grapes is known as enocyanin, which gives even more color to any of these preparations. For example, ice creams, jams, desserts, or juices can be made with maximum naturalness and without relying on artificial colorants.
What is clean label food
Knowing what we are eating is something that has been gaining importance over the years, and clear and easy-to-understand labeling helps a lot when choosing one product or another. One of the movements we have seen emerging more recently is the so-called clean label, which advocates offering information on labels in a transparent way. In short, it seeks to facilitate the consumer's choice when buying similar products, paying special attention to artificial or undesirable ingredients in terms of health. Although there is no official or legal definition of this term, the idea is to opt for increasingly natural products. Brands that have opted for the clean label and natural compounds have achieved significant recognition by consumers, especially among those who are concerned about their diet or sustainable production.
Anthocyanins in the clean-label food trend
Anthocyanin is one of the best known and most widely used plant pigments, which is used especially in acidic products such as juices and other juices. This is because, from a pH above 4, anthocyanin degrades very easily and loses its bright color.
Anthocyanins, and especially enocyanin, dissolve well in water and maintain high stability to both light and heat. Since it is a completely natural colorant, extracted from grapes, it is in great demand in the food industry with the idea of promoting the clean label we have already mentioned.
Julián Soler's red grape juice concentrate with high coloring power
In our production plant, we have a high color grape juice concentrate that is in great demand among our customers. It is a product obtained from the partial dehydration of the grape juice concentrate of a very specific grape, the Garnacha Tintorera variety. Our concentrated grape juice concentrates can have different formats, such as the sustainable models that come from vineyards certified under the FSA (Farm Sustainability Assessment) standard or the varietal grape juice concentrate that is made only from a selected grape variety. Its high intensity as a colorant makes it very useful for many preparations, but it is not its only virtue.
The health benefits of the Garnacha Tintorera grape variety
Did you know that grape concentrate with high color is the most valued?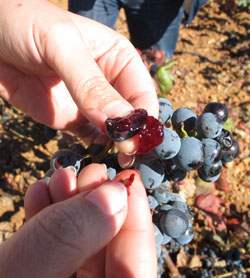 This is because, beyond the quality, with a significant content of natural sugars and acids typical of red grapes, it has a very high amount of polyphenols, specifically of the resveratrol type. This compound has a great antioxidant activity, and that is why in Julián Soler we elaborate our high color red grape juice concentrates from our Garnacha Tintorera grape. The pulp of this grape variety has a very intense color, in addition to a high polyphenolic index, which means a great number of benefits. In addition to the antioxidant properties, the Garnacha Tintorera grape offers benefits like:
cardiovascular and metabolic, with an important incidence in the prevention of diseases of this caliber.
We can also name the properties:
anti-inflammatory.
antithrombotics.
even lipid-lowering agents.
All these factors have a fantastic impact when it comes to the use of grape juice concentrates with high color for its multiple applications. Julián Soler's grape juice concentrate is used for the manufacture of many other foods and beverages, such as beverages, colorants, candies, and baby food. In this way, all the properties of the Garnacha Tintorera grape reach the consumer.
High demand for grape juice concentrate as a natural colorant in the clean-label food market, facts, and figures
The world market for natural colorants has grown in recent years, with 2019 being a sector that reached 5 562 million dollars, according to the latest study by CIEN (Centro de Investigación de Economía y Negocios Globales). The United States leads the purchase of this ingredient, with 1 164 million dollars (18'1%), while Japan was the country that increased the most its spending by 11'3%. In Spain, the market continues to grow and is estimated to grow at a CAGR (Compound Annual Growth Rate) of 3.6% by 2025, according to Mordor Intelligence.
Increasing awareness about the use of synthetic dyes has boosted this market, which is further accentuated by the health-promoting properties of natural dyes. The low trans fat content of these products, coupled with the increasing popularity of plant-based foods also increases their appeal. As a general summary, we can observe the importance of grape juice concentrates at different levels within the food industry itself, especially the red grape juice concentrate with high coloring power from the Garnacha Tintorera grape variety.
Its use as a colorant, its multiple benefits for all ages, and the latest trends in healthy and sustainable food make it a product without equal.
Request your offer without obligation. We export to more than 48 countries in the 5 continents.