Wine is one of the most widely consumed beverages in the world, and there are so many varieties that there will always be one to suit every palate. For thousands of years, it has been part of the culture and life in society, and for years it has become an important pillar in the economy of our country. At Julián Soler we offer you one of the best bases for making wine: grape juice concentrate.
This concentrated grape juice can be used for a multitude of preparations, but it offers incredible qualities when it comes to a glass of wine. Let's see why it is so interesting to use it and how grape juice concentrate can be the best raw material to make wine. Julián Soler's first customer in 1970 was an English supermarket. This was the metal can for making wine at home, "from best Spanish vineyards". Today our grape juice concentrate is in great demand to make wine in Asian countries.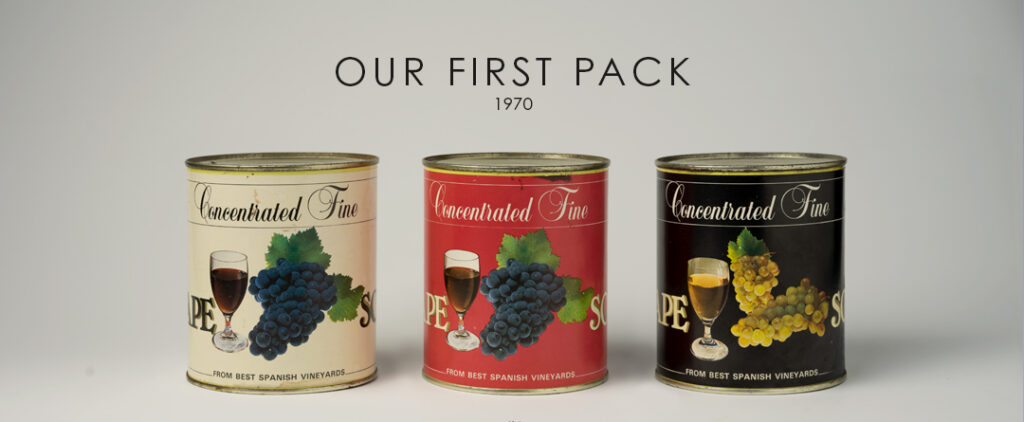 Health benefits of grape juice concentrate
Grape juice concentrate is a very healthy drink, which is made from 100% virgin grape juice and has no additives. At Julián Solar we are committed to keeping the grape as natural as possible: sugar, acids, and color are those present in the grape, nothing else. Among the properties of concentrated grape juice, we can highlight:
High concentration of antioxidants such as resveratrol and flavonoids.
Minerals such as potassium, iron, copper…
Vitamins C and E.
Thanks to these components, it has a very positive impact on the organism, preventing illnesses and cellular aging. Grape juice concentrates are also known to be useful in the fight against heart problems, as they help to keep our circulatory system strong. If you want to know more about the properties and benefits of grape juice concentrate, you can read the article we published on this subject.
Why is grape juice concentrate used to produce wine?
During winemaking, a series of processes take place that ends up turning the grape juice concentrate into wine thanks, in large part, to fermentation. This causes the grape juice to lose its original sweet taste and alcohol appears, hence we can incorporate grape juice concentrate before or after this process to control the final result.
How grape juice concentrate improves wine quality
Grape juice concentrate has tremendous qualities that help wine production:
Add sweetness to your wine
Increase its body
Intensify its colour
Rounding out the mid-palate
Grape concentrate is used before or during fermentation to increase the final alcohol content, or after fermentation to increase sugar levels. It can also be added just before bottling to stabilize the color. As we say, the grape juice concentrate enhances the flavor of the wines, reaching optimal levels of sugars, acids, or aromas. However, it is important that the concentrate to be used is compatible with the type of wine to which it is added, in order to guarantee optimum results.
Grape varieties grown in Castilla-La Mancha
Castilla-La Mancha is the largest wine-growing region in the world. The conditions that exist in this geographical area are ideal for the cultivation of different grape varieties, both red and white grapes, always with the best qualities for the future production of the grape juice concentrate. At Julián Soler we are fortunate to be located in a privileged area known as La Manchuela, which allows us to have grapes and red grape juice concentrates of local varieties all year round.
Most of the red grape varieties grown in Castilla-La Mancha are concentrated in this wine-growing subzone, located in the south of the province of Cuenca and north of Albacete, where 72,000 hectares of vineyards are cultivated. Among the red varieties, we highlight the cultivation of Garnacha Tintorera, with almost 26,000 ha.
Below is a breakdown of the main grape varieties harvested in Castilla-La Mancha during the 2020 / 2021 winegrowing season:
| | |
| --- | --- |
| Variety | Planted area (ha) |
| Airén, B. | 196.926,41 |
| Tempranillo, Cencibel, T. | 70.519,30 |
| Bobal, T. | 32.156,40 |
| Garnacha Tintorera, T. | 28.468,49 |
| Macabeo, Viura, B. | 22.898,23 |
| Garnacha Tinta, T. | 21.010,34 |
| Monastrell, T. | 14.221,32 |
| Syrah, T. | 9.840,75 |
| Tinto de la Pámpana Blanca, T. | 8.471,36 |
| Cabernet Sauvignon, T. | 7.153,75 |
| Verdejo, B. | 5.604,52 |
| Chardonnay, B. | 4.508,70 |
| Sauvignon Blanc, B. | 4.418,33 |
| Merlot, T. | 3.505,22 |
| Pardina, Jaén Blanco, B. | 2.432,29 |
| Moscatel de Grano Menudo, B. | 2.270,88 |
| Petit Verdot, T. | 1.712,89 |
| Mazuela, Cariñena, T. | 1.509,37 |
| Verdoncho, B. | 1.503,56 |
| Pardillo, Marisancho, B. | 1.306,19 |
| Pedro Ximénez, B. | 1.304,67 |
| Tinto Velasco, Frasco, T. | 1.191,63 |
| Moravia Dulce, Crujidera, T. | 1.045,70 |
| Resto | 7.393,25 |
| TOTAL | 451.373,55 |
Grape varieties grown in Castilla-La Mancha, Spain
What products are made from grapes?
Food products made from grapes
Raisins: Grapes dried after ripening, allowing them to be preserved in a better way.
Liqueur bonbons: These are chocolate bonbons with a grape in brandy inside and, usually, apirena.
Liqueurs: They are obtained after the maceration of alcohol and some aromatic vegetable substances, and can be sweetened with sucrose, sugars, grape juice concentrate or honey. The alcoholic graduation is over 30% vol. and its sugar content must exceed 100 grams per liter.
Wine vinegar: The acetic fermentation of pure or diluted wine is carried out to produce this liquid with a richness of acetic acid greater than 60 grams per liter.
Grape jams: Grapes are heated, sieved to eliminate seeds and skins, and sugars and other fruit juices are added, ending with a final pasteurization.
Mostillo: This product is obtained by directly boiling the grape juice concentrate, adding wheat flour and sometimes cinnamon, anise or cloves. It is then left to dry in molds.
Enocyanin: This product is used as a natural colorant, and is obtained through a complex system of extraction from the skins of red grapes.
Non-food products made from grapes
Enocyanin: A product we have already mentioned, also used in the pharmaceutical and cosmetic industry.
Grape pomace as animal feed: Grape pomace, once pressed, destemmed, dried and crushed, can be included in the animal diet mixed with other feedstuffs or in the form of meal.
Proanthocyanidols from the pips: It is used in the pharmaceutical industry as a vascular protector. It can also be part of sunscreens, anti-aging creams or as an antihistamine.
Dehydrated alcohol: This alcohol reaches a graduation of over 99% vol. by chemical means.
Request a free sample of our concentrated grape juices.
What is grape juice concentrate used for?
When we talk about grape juice concentrate, we can find numerous uses as we have seen. In juices, syrups, baby food, pharmaceuticals, sweets, sweeteners… An endless number of possibilities that take advantage of its high sugar content and its numerous properties.
In countries such as Japan or Canada, due to the small area available for vineyards, it is also used for winemaking. Today 90% of the grape juice concentrate production in Julián Soler is exported to more than 48 countries in the 5 continents mainly for food and beverage companies, as well as the pharmaceutical industry that increasingly uses the beneficial properties of grapes to produce nutricosmetics.
If you want to know more about our process, packaging, or export of our grape concentrate and NFC please contact us.