Food pairing with grape juice? Food and drink pairing with fruit juices is becoming more and more popular in gastronomic offers. The end consumer demands new experiences, light, low-alcohol or non-alcoholic drinks and dishes made from unique flavour combinations and textures. Therefore, using juices as ingredients in a variety of dishes and desserts, as well as opting for juice pairing as an alternative to wine pairing are increasingly common practices in the hospitality industry. Practices where red or white grape juice concentrate is emerging as one of the ideal options for a perfect pairing.
Why use grape juice in food pairing?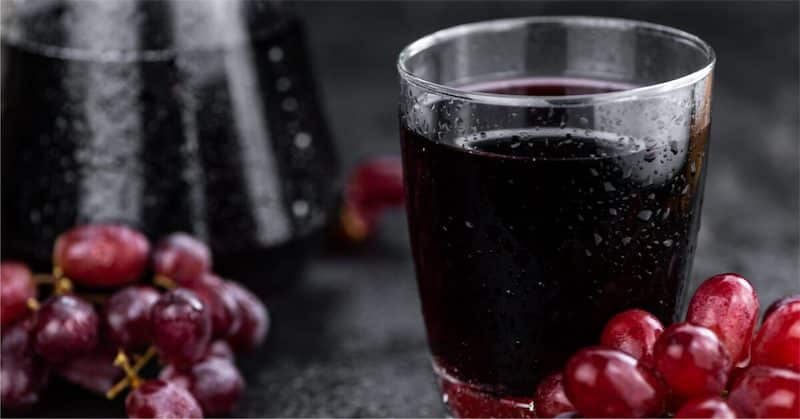 In the UK, Norway, Denmark, Italy, Australia, Indonesia, New York… all over the world, restaurants are offering alcohol-free pairings, and fruit juices are emerging as an important alternative to the classic wine pairing. In addition, more and more fruit juices or fruit syrups are used as ingredients in the preparation of dishes. Why is this happening?
Consumers are becoming more aware of how food and drink impact on their health. More and more people prefer natural ingredients, free from preservatives, low in sugars, etc. They also prefer foods with added value and which can offer more nutritional value.
Within the food pairing associated with food, currently the alternatives that most captivate the consumer are those with unusual ingredients that generate stimulating and unique sensations on the palate.
There is also a trend towards less alcohol consumption. For example, it has been shown that Generation Z is consuming less alcohol than previous generations.
The restaurant industry is becoming increasingly inclusive of people who choose, for one reason or another, not to consume alcohol, offering them experiences on the same level as wine pairing.
For this purpose, culinary innovators have set themselves the task of creating sophisticated blends with juices that manage to offer a valuable gastronomic experience. It is a meticulous work in which all the characteristics of the juice are evaluated, and where the red or white grape juice is positioned as one of the great options to replace the wine pairing.
What does grape juice offer in food pairing?
Grape juice offers infinite possibilities of calibrations and combinations, whether as ingredients in natural dishes or for the preparation of low-alcohol or non-alcoholic cocktails. Thanks to the great variety of grapes, both in red and white grape juice we can find different structures and different intensities of colour, acidity level, etc. This opens the door to the gastronomic creativity of food pairing. In addition, grape juice:
It is a powerful antioxidant and helps prevent various diseases.
It is a source of energy.
It is rich in vitamins (calcium, potassium, phosphorus, iron…).
It has a great sweetening capacity.
It serves as a natural colouring agent in drinks and food products, for example, ice cream, cocktails and juices.
Grape juice is strongly positioned within the hotel and catering sector as an ingredient that not only offers ideal combinations in dishes, but also evokes the flavours of a territory, a culture and a tradition.
Grape juice in beverage pairing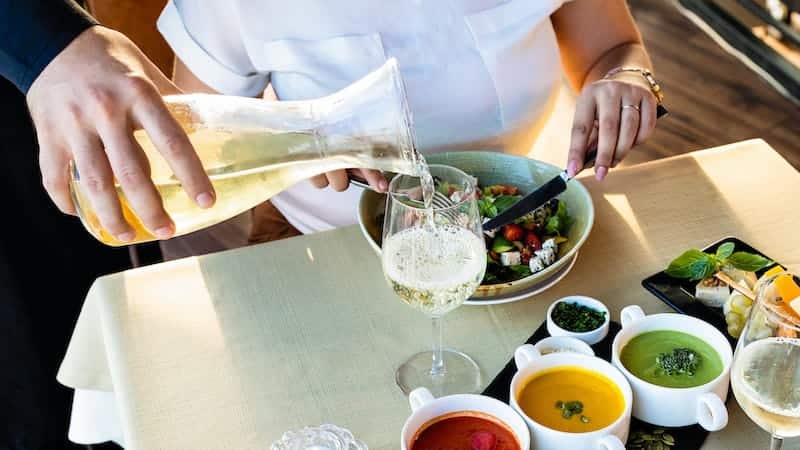 Juice pairing is an art in itself. Making fruit-based drinks requires getting the exact profile to match each dish. It must offer a holistic experience that tantalises all the senses, but it must also deliver a product with nutritional value. To achieve this, Michelin-starred chefs masterfully blend grape juice with other ingredients. For example:
Grape juice/alcohol blends
When making cocktails with grape juice and alcohol, drinks such as vodka, tequila, gin and rum are often added. Other fruit juices or ingredients are also added. For example:
White grape juice concentrate mixed with pineapple juice and rum.
White grape juice concentrate with lemon, vodka and fresh mint leaves.
Red grape juice concentrate with lemon juice, gin and egg white.
Depending on the portion of grape juice used and the different ingredients and types of alcohol, a range of unique drinks is created, more or less light, more or less citrusy and with different colour intensities.
Alcohol-free grape juice combinations
Soft drinks with grape juice as the main ingredient are often used as an alternative, both in wine pairing and as a substitute for sugary soft drinks. They are highly appreciated by consumers looking for a low-calorie solution with no added sugars and no colourings.
For example, the combination of red grape juice with lime and a touch of rosemary and elderflower offers a fruity, herbal cocktail. While red grape juice concentrate with balsamic vinegar and crystallised ginger makes for a refreshing drink with a salty depth and intense colour.
Thanks to its organoleptic properties and the nutrients it contains, red grape juice concentrate is usually mixed only with carbonated water to obtain a non-alcoholic drink that is very light, refreshing and visually appealing.   
Grape juice as an ingredient in food pairing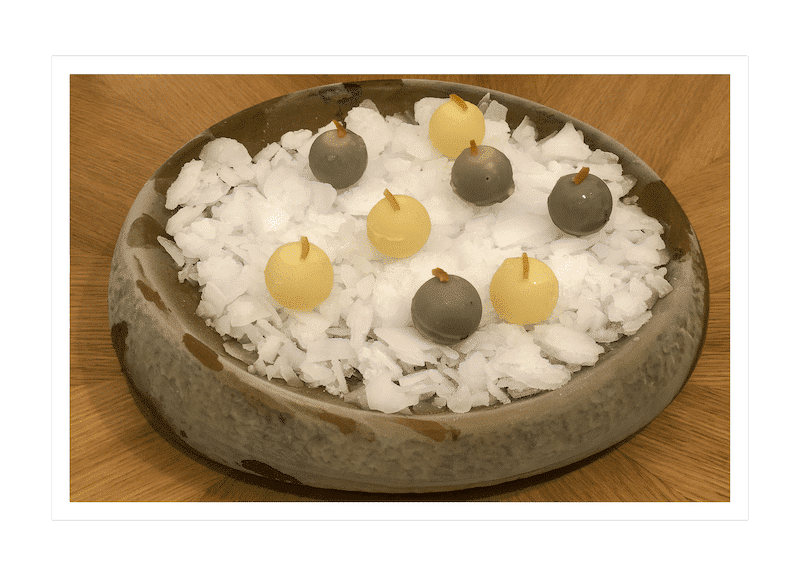 Grape juice has a rich profile that makes it an excellent substitute for wine and other traditional ingredients in the preparation of a variety of dishes. Allowing for an unlimited number of possibilities, even green grapes offer great potential.
Grape juice concentrate in a variety of dishes
Grape juice concentrate is used by chefs in their culinary creations. They often squeeze the grapes themselves, filter the obtained product and reduce it in order to obtain grape syrup. Basically, this syrup is used to add depth to meat or to add texture to biscuits.
In addition, they use grape juice as a natural colouring agent in food and beverages. It is the perfect ingredient when you want to offer completely organic products. For example, in desserts and ice cream.
Green grape dressing
Verjus, or "green juice", is a type of non-alcoholic juice made from green grapes, which is very useful in cooking. Chefs in Europe and the United States use verjus as an alternative to lemon juice or vinegar. It can be used in conjunction with white wine or, if higher acidity is preferred, it is used as a substitute for wine.
Depending on the grape variety, it is used as a salad dressing or to increase the acidity of sauces.
Balsamic vinegar made from grape juice concentrate
Balsamic vinegar made from grape juice alone is a healthy, additive-free option for dressing salads, meats and carpaccios. The grape juice concentrate gives this product the right consistency and colour, so no artificial thickeners or colouring agents are needed. It can be made from red grape juice concentrate, white grape juice concentrate or their combination.
JULIÁN SOLER joins the pairing with grape juice concentrate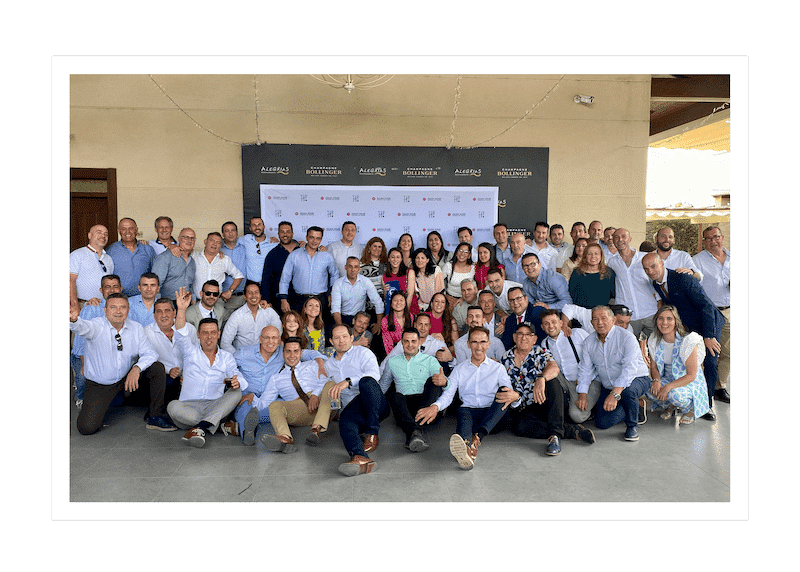 At JULIÁN SOLER, faithful to tradition, we take advantage of the commemoration of Workers' Day to praise the people who make the production of 100% grape juice concentrate possible, because without them it would be impossible to offer the quality that our customers demand.
We have been celebrating the first of May for more than 40 years, a special moment to strengthen the connection between the company and the workers. This time is also the time to share culinary innovations with grape juice concentrate, such as eye-catching sorbets and colourful desserts, very nutritious and additive-free options.

At JULIÁN SOLER we join the food pairing with grape juice concentrate, and we help the hotel and catering sector to meet the demands of their customers. Tell us what you need. We will advise you without compromise.

Source: https://www.businessinsider.com/millennials-gen-z-drag-down-beer-sales-2018-2