There are more than 10,000 grape varieties worldwide, but few are as unique as Garnacha Tintorera. Join us to discover the characteristics and benefits that allow this variety to produce a unique grape juice concentrate in the world.
The importance of our Garnacha Tintorera
The origin of Garnacha Tintorera
The origin of this grape variety is certainly debated, as some historians place it in Nice and others in Aragon; but in Albacete, there is a great tradition for this grape. Even so, the interesting thing is that it has been gaining popularity over time, and now we can find productions of Garnacha in La Rioja, Valencia, Tarragona, or here, in La Manchuela. It is a very vigorous plant, with strong growth and a great capacity to produce grapes per hectare of land. It withstands some of the most common vineyard diseases, such as powdery mildew, and is perfectly adapted to our region. The soil, altitude, and climate of Castilla-La Mancha have fostered the production of unique fruit, difficult to find in any other area of the world, and which differs from other grapes due to its characteristics. This makes it an ideal product for the creation of our grape juice concentrate, as it contains the best of our land in its pulp.
Health benefits of the Garnacha Tintorera
Garnacha Tintorera provides numerous health benefits, especially thanks to the high content of polyphenols found after chemical analysis. For example, we can highlight the importance of antioxidant properties or the presence of resveratrol, a polyphenol with anticarcinogenic properties. It is precisely this degree of polyphenol that makes this variety of one highly appreciated in the pharmaceutical industry, for the commercialization of products that help patients with different diseases. There are many scientific reports that support the inclusion of foods rich in polyphenols in the diet since it also has a healthy effect on the cardiovascular system. In short, a grape not only acquires a lively and powerful fruity aroma but also helps us to improve our state of health.
The high coloring power of Garnacha Tintorera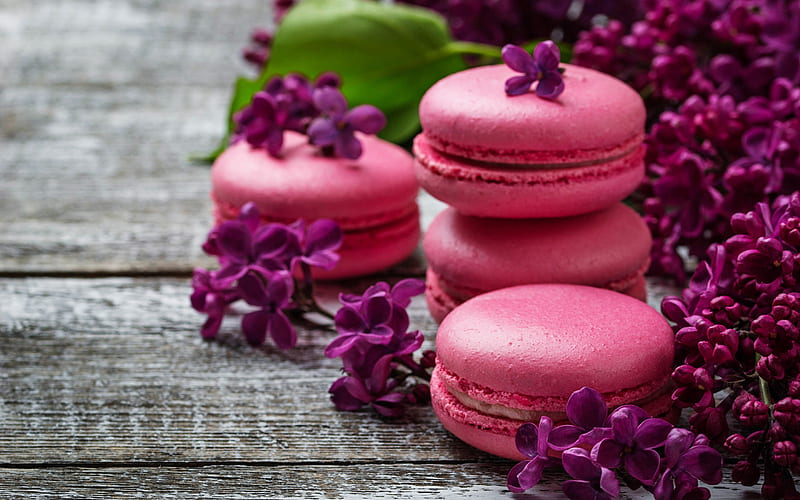 One of the most striking characteristics of this grape variety is the color of its interior. Unlike other red varieties, which have color only on the skin, Garnacha Tintorera has a strongly colored pulp. This allows us to obtain concentrated grape juice concentrates of high color (over 1500 color points) that cannot be obtained with other red varieties.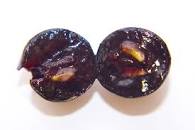 This is a singularity that no other Spanish variety possesses, and very few in the world share. Thus, Garnacha Tintorera has been used for many years to make coupages and as a standard for bulk wines.
But, in addition, being an excellent natural colorant, this variety has managed to find a niche in different industries. For example, beyond the production of juices and beverages, it is used in the pharmaceutical industry or, as we will see below, for artistic purposes.
La Manchuela: a place with a unique variety
La Manchuela is a region of La Mancha that is present in Albacete and Cuenca as well as in Valencia. One of the best-known grapes in the region is the Bobal grape, which is also used in Julián Soler for the production of grape juice concentrate, but today we focus on the Garnacha Tintorera.
Our variety, which only grows in this area, has some characteristics that differentiate it from other red grapes. The crops of our land and the nutrients of the soil are the key factors to achieve this configuration. The intensity of its color can vary between cherry and cherry red ranges, with great presence and a very lively tone. We can perceive intense primary aromas of fruity character, where red wild fruits, raspberries, and blackberries are noted. In the mouth, it maintains a long and persistent palate, with an important range of flavors, in which appears a fatty tannin and with a lot of strength.
Julián Soler as grape ambassadors around the world
At Julián Soler we are committed to our work, both with the growers we work with and with the Garnacha Tintorera variety itself. In recent years, we have carried out numerous projects to give greater visibility to this type of grape, with a presence in more than 48 countries on 5 continents.
We are helping to preserve this native variety of La Manchuela, even encouraging its cultivation among local farmers, to continue the work of promoting this variety that brings so many benefits. It is precisely its use adapted to the different industries that allows it to become more and more known and to form part of numerous products that reach the final consumer.
From our constant innovation and CSR, the Vidartis project was born
As we have said, we are fully committed to the exposure of Garnacha Tintorera. For this reason, through our latest Vidartis project we are giving prominence to this native variety, which historically was not appreciated in the wine sector (because it was considered an astringent variety).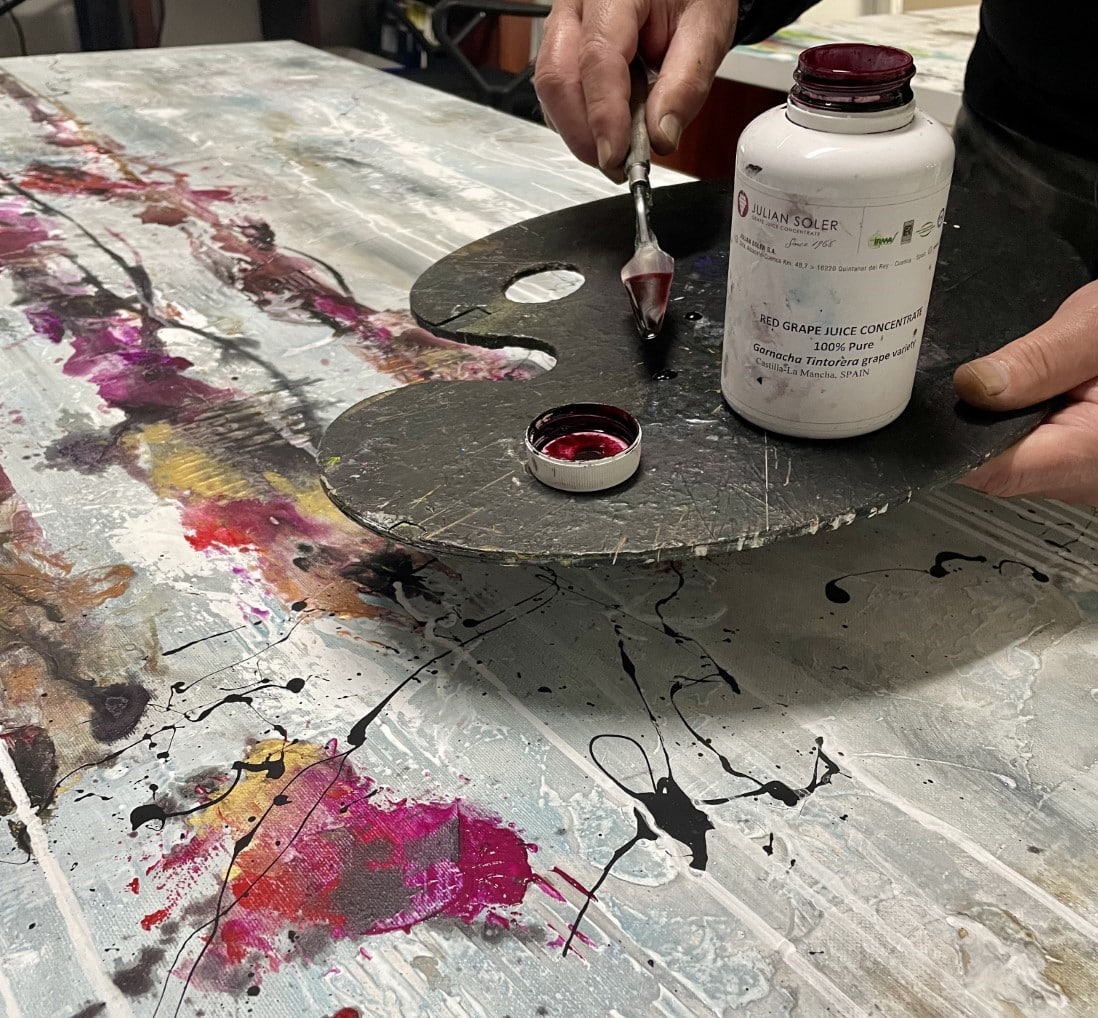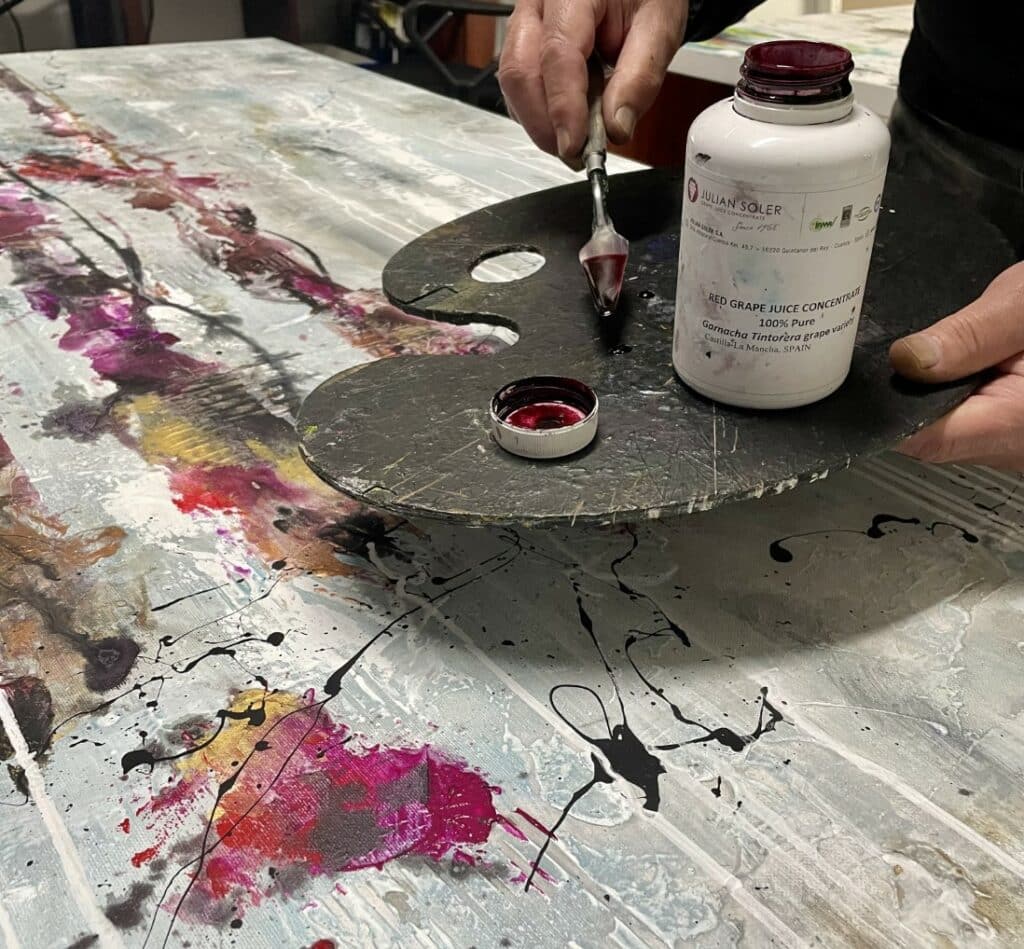 Vidartis is an innovative project that fuses agriculture and art, where different artists from Castilla-La Mancha use our grape juice concentrate as a pigment in different graphic expression techniques. In this way, a type of art is created that connects the viewer's experience with the grapes and the roots of our land. One more way to become ambassadors of our place of origin and of this grape variety. Now that you know a little more about Garnacha Tintorera and its multiple uses and benefits, you can contact us to answer any questions you may have.
In Julián Soler we have our own laboratory and R&D department to help our customers to co-develop in the research to create innovative products in the market and source of health demanded by the final consumer.
Request your offer without obligation. We export to more than 48 countries in the 5 continents.